Buy vs. Lease | Harlingen, TX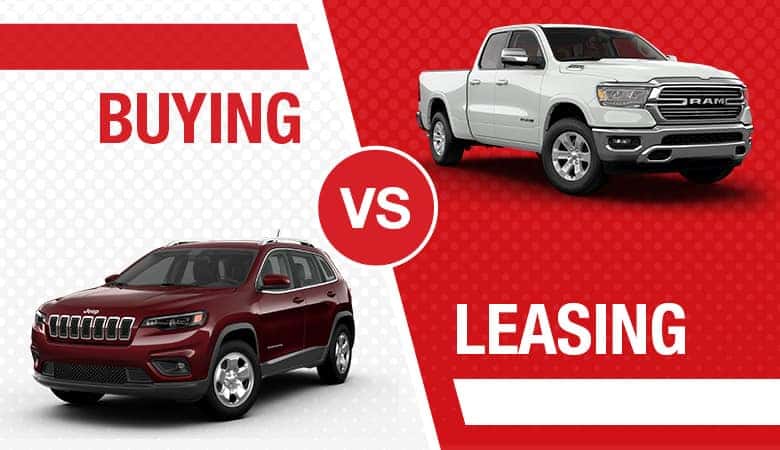 Buying a new vehicle is the most common option when searching for a new set of wheels, but leasing comes with a wide range of benefits that many drivers haven't considered. Both are great options when shopping for a new vehicle — and you can take advantage of both at Bert Ogden Chrysler Dodge Jeep® Ram in Harlingen, Texas.
Not ready to return to the norms of pre-pandemic shopping? We offer an Express Checkout option on our website, which allows you to buy or lease a vehicle without stepping foot outside your door. We even offer at-home delivery for your safety.
Buying benefits
When you choose to purchase the vehicle, you are agreeing to pay the full cost of the car, truck, or SUV, typically over a set number of years by financing it. Once the vehicle is paid off, you are free to drive the vehicle as long as you want, free of monthly payments — though the longer you drive a vehicle, the more likely you are to face expensive maintenance and repair costs. Buying a car allows you to customize it with accessories as you see fit and avoid any mileage limitations. You also keep the profits when you sell the vehicle privately or trade it in at the dealership.
Leasing benefits
Leasing offers several benefits. Rather than paying the full price of the vehicle, you are paying the difference in value from the day the lease starts and the day it ends. That means you can often lease a vehicle without a down payment, and you'll pay lower monthly premiums. When leasing, your vehicle is covered by a warranty the whole time, so you don't need to worry about costly repairs. By leasing a new vehicle every few years, you give yourself access to the newest entertainment, comfort, convenience, performance, and safety technologies offered.
---
Ready to buy or lease you next vehicle? Visit Bert Ogden Chrysler Dodge Jeep® Ram in Harlingen, Texas, to check out our large inventory.