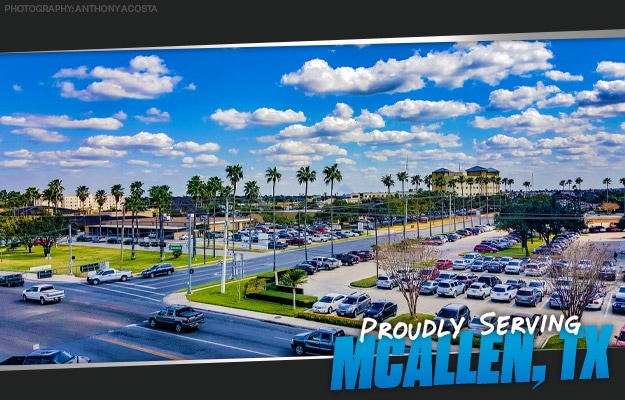 Bert Ogden Chrysler Dodge Jeep® Ram is proud to serve the residents of McAllen, TX, and the surrounding area. Discover the unique history of this region as well as popular sites to explore. 
Culture and history
Founded in 1905 by Scottish settler and rancher John McAllen, the town started out with agriculture-based economy. Currently, the area is a major hub of international and retail trade, manufacturing, and tourism. It's a processing center for cotton, vegetables, and citrus fruit, though it is also known for its gasoline and oil production.
Located near the Mexico border, McAllen's blend of Hispanic and American cultures gives the city a real charm. It boasts diversity in its art and products, as well as its customs and cuisine, making it a colorful place to live and visit.  
Things to do
There is plenty to do when you're in town. Stop by the McAllen Performing Arts Center to catch a Broadway show or concert. Visit the Veterans War Memorial and wander the five-acre site featuring soldiers' names etched on granite walls. If the weather is rainy, head to Palms Crossing, one of the town's premier shopping destinations with 20 restaurants and 23 retail shops. You can also check out The Shops at 29th which includes Dave & Busters, Freddy's Frozen Custard & Steakburgers, and Burlington Coat Factory.
Where to eat
The Kolache Factory is a popular place for brunch. Menu items include Chicken enchilada and barbecue brisket kolaches, as well as polish sausage, croissants and sweets. Try Yasuke Japanese Sushi for sushi and other Asian dishes such as miso ramen. The Halal Guys is a great option for Mediterranean fare, while The Kabob Guys offers scrumptious Indian and Pakistani cuisine. Kocina Il Forno is a great spot for authentic Latin food. If you're a fan of contemporary American dishes, SALT and Boka 400 will suit.
When you're in the McAllen area, visit Bert Ogden CDJR. We love serving our McAllen community and making sure they have the best vehicles for their work and travels.